We had BIG waves and a fun day seeing whales, otters, pelicans and more. Captain Mark is a great guide and knowledgeable about all kinds of nature and water and land and you name it...the conversations were engaging and educational. Everyone has a chance to steer the boat, to ride up front or to stay safely tucked out of the wind. Great snacks too! We will make this a regular event when traveling down south.
Yet another amazing day sailing with Captain Mark! This is absolutely the greatest way to spend time in Avila. We've sailed with him now about 7 times and each trip has been the best! The weather was gorgeous and we saw several grey whales. Even if you're not staying in Avila, it's worth the drive just for this. Often we drive from home and back (6 hours) in one day just to spend the afternoon on the sea with Captain Mark. Besides being a very experienced sailor he is a great storyteller that keeps your trip lively and fascinating. Even if you don't see whales, it 's a wonderful way to spend the day, just relaxing on the sea. Highly recommended!
Everyone of us have had the dream of sailing the open sea, spreading her wings, cutting through the the rolls of the salty open ocean. Captain Mark can make that dream happen for you. You choose, to be passenger or crew, but whichever, you will not forget this adventure. In his beautiful 50' sailboat you can find yourself sitting at stern with you at the helm. If you can wipe the giant grin off your face, you will understand immediately what drives one to be away, at sea, as a sailor. From the motoring away from a moored offshore position to tacking the boom back, views include stationary lighthouse, bluffs and the seasonal enjoyments of ocean life that witnesses the Harbor Porpoise surfing along side, Sea Otters floating on their backs, Seals swimming in pairs, Sea Lions in a lazy lounge on the warm sun drenched shore rocks and docks. Be sure however, to consider booking during their seasonal migrations to become present in the forever memorable California Grey Whale. Captain Mark isn't just a Captain, he is an adventurer, a gentleman and experienced navigator with all types of sea-fare crafts. Each of the thousands of leagues of seamanship experience behind him; the line, the anchor, the sail, the rudder, the hull are in every aspect his tool of expertise. He can sail with or against the waves and steady course any boat to minimize any potential seasickness. His stories while setting course is memorizing and something every crew will find as the best possible experience in a lifetime.
Every trip on the ocean doesn't always end up with me fishing or diving.  Pam, my wife, had her birthday this month and since she used to be an avid live-aboard sailor, her present was a sailing trip. We spent a very pleasant afternoon aboard the Ocean Spirit, a well-appointed 44-foot Beneteau sailboat owned and operated by Mark Kocina, a man who knows his trade well.  Mark charters sailing day trips out of Port San Luis on the central California coast near Pismo Beach, embarking off the same pier as Patriot Sport Fishing. The price is reasonable, and snacks and drinks, including beer and wine, are provided during the sail at no extra charge. Each trip is limited to six guests so there's plenty of room to move around the boat and the mood on board is cozier than trips on larger vessels. On our two and a half hour afternoon trip along the scenic shoreline, we enjoyed great views of all the usual around-the-bay marine life plus a number of feeding humpback whales that put on a good show.Captain Mark is knowledgeable about the area and has a yarn or two to go along with most answers to your questions.  Even more important, he knows how to sail.  And the sailing was terrific…we managed to catch an absolutely spectacular day with plenty of sunshine and light winds, enough to move the boat along at a nice clip.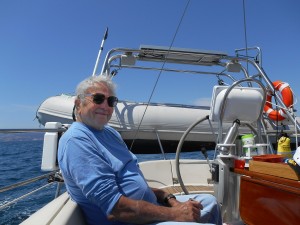 I have to admit that moving silently over the water with the port rail dipped toward the sea was different for me and a lot of fun. Both Pam and I found this to be an enjoyable experience and we'll do it again if the chance arises, maybe on next year's birthday, maybe sooner.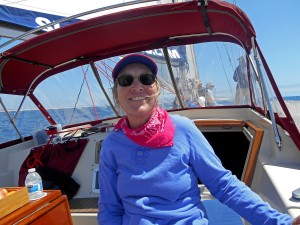 For those of you who might be interested in this sort of trip, Mark's company is called Central Coast Sailing Charters, and his web page can be found atwww.slosailing.com.  Say hello to Mark from us if you do try this adventure, and remember, any day at sea is always a good one.
A letter from Leslie Henkel :
Charter with Mark! He captained our very first passage with us, from SF to Santa Barbara, and is probably a big reason why we didn't die on our first crossing of the Pacific, let alone us not smashing ourselves on our Mark-less leg from SB to Ventura. You can read nice stuff about Mark here (bear with me, the stuff is about halfway down!) Actually, I'll just sum it up here, but read the whole post if you like:





"Learning from Mark was a priceless experience. On a clear night, the first of our journey, he showed me Orion, Aldebaran, Hercules, and other constellations and planets useful for navigation. He informed us of the uselessness of 16 out of 19 of the life vests on board; the best way to fish; helped us figure out how things worked (or didn't) on our boat; and generally, showed us how to have a good time, even at 3am, with oil derricks that never seem to get any closer, shining in the distance, and a cold wind making Aldebbie whistle a lonely dirge."